Equipment Sales Rep - Texas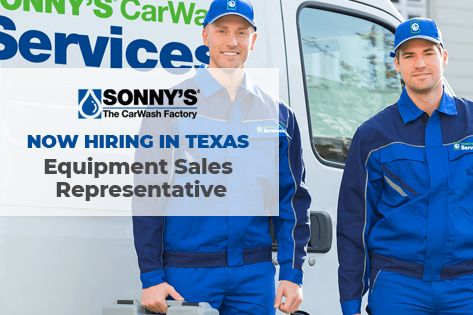 Sonny's CarWash Services of Texas has an immediate need for an Equipment Sales Rep in our equipment sales group.
This is a Full-Time Salary position.
If you are a passionate technical professional that would like to expand your responsibilities towards a career in sales, we invite you to apply. This is your opportunity to join a fast growing company offering a competitive compensation plan and benefits. Enjoy a robust paid training program allowing you to learn from subject matter experts with proven success.
Utilizes individual technical, communication and product skills to prepare sales quotations for equipment orders and relay information to customers. Develops product designs, generates sales quotations, and handles customer inquiries. Works with team members and sales representatives and coordinates with various departments. Upon completion of training, you will be given additional responsibility and will begin preparing quotations and processing orders and then managing the entire sales cycle for customers. You will learn to develop a consultative sales approach. Your primary responsibility will be working with the Regional Sales Managers on driving profitable sales in an assigned territory and accounts. As you progress, you will be given responsibility for either assigned customers or a geographic territory.
This position is an entry level sales role in the organization with the intent of promoting into a Regional Sales Manager position within the next 2-5 years depending upon performance.
EDUCATION, EXPERIENCE & SKILLS WE'RE LOOKING FOR
· Car Wash Experience Preferred.
· Bachelor's degree preferred. High school diploma/GED required
· 2+ years of successful technical service, engineering or field sales support experience, or 2+ years of outside sales of capital equipment or business to business value-add sales experience.
· High computer application literacy (including Microsoft Office Suite, and ability to learn internal business systems)
· Industry related experience is a plus. Must have a strong mechanical aptitude.
· Ability to guide, direct and provide technical expertise on products (or services) to colleagues, distributors, and customers.
· Previous business to business value-add sales experience
· Demonstrated ability to guide, direct and provide technical guidance to colleagues, representatives and customers
· Proven track record of consistently exceeding and/or achieving goals
· History of working in a field that required autonomy and self-motivation
· Prior experience that required excellent communication and organizational skills. Ability to communicate internally with various departments and externally with customers and distributors.
· Ability to use strong judgement with knowledge of company policies and procedures to resolve non-standard problems.
· Problem-solving and analytical skills
· Demonstrates a strong work ethic and ability to multi-task
· Familiar with SAP systems preferred
HOW TO APPLY
***If Interested please email resumes to CLantigua@SonnysDirect.com
For additional information refer to www.SonnysDirect.com/careers
Affirmative Action/Equal Opportunity Employer
M/F/D/V
DRUG-FREE WORKPLACE